Katie Warren, SPL at PCMH is Certified in the LSVT LOUD Program
Katie Warren, Speech Language Pathologist at Perry County Memorial Hospital is certified in the LSVT LOUD Program and accepting new patients.
Be Loud. Be Heard. Be YOU!
The LSVT LOUD® therapy program is an effective speech treatment for individuals with Parkinson's disease (PD) and other neurological conditions. LSVT treatment can improve vocal loudness, intonation and voice quality for individual with PD.
Proven to significantly improve speech after one month of treatment.
Exercises taught in the LSVT® method are easy to learn and typically have an immediate impact on communication.
Improvements have been shown to last up to two years following treatment.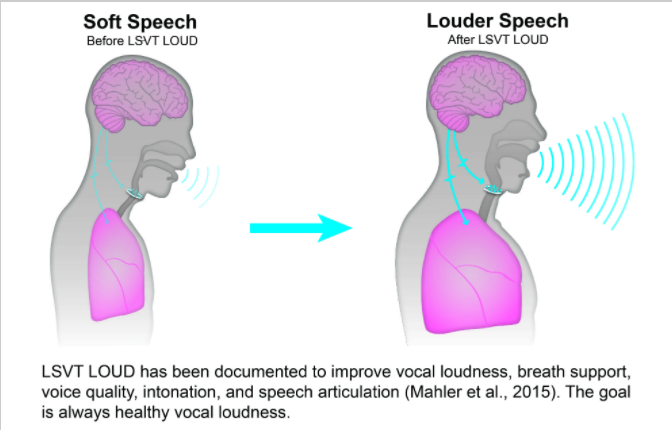 How Does It Work?
LSVT LOUD® improves vocal loudness by stimulating the muscles of the voice box (larynx) and speech mechanism through a systematic hierarchy of exercises. Focused on a single goal "speak LOUD!" – the treatment improves respiration and speech function to maximize speech intelligibility.
Treatment is administered by an LSVT LOUD Certified Speech Therapist. The program is scheduled for 16 sessions over a single month. (Four individual 60 minute sessions per week).
Loudness training for individuals to recognize their voice is too soft, bring their voice to an improved, healthy vocal loudness with no strain and make them comfortable using a louder voice.
Successfully administered to individuals in all stages of PD, the treatment has been most effective among those who are in early or middle stages of the condition.
LSVT Treatment for Other Neurological Diagnoses
LSVT LOUD has been applied to individuals with Stroke, Multiple Sclerosis, Down Syndrome, and Cerebral Palsy with positive outcomes. Anyone experiencing problems with vocal volume due to cancer, problems involving the thyroid, etc. can benefit from LSVT treatment.
The LSVT LOUD® therapy program at Perry County Memorial Hospital is available on an outpatient basis with a written prescription from a physician or nurse practitioner.
Call us at (812) 547-0320 with any further questions or to schedule!