PCMH Pharmacy Wins National Best Practices Award
Category: News
Posted On: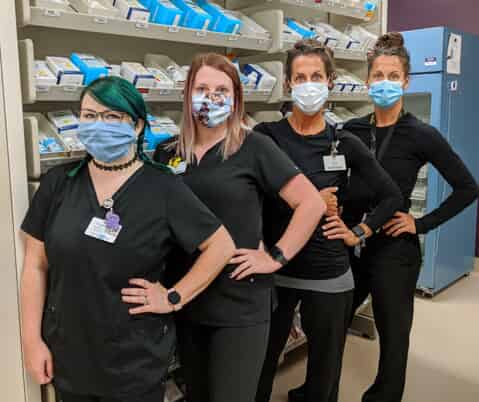 Pictured left to right: Krystal Aldridge, Crystal Hinton, Kelly Litherland, and Karry Labhart.
TELL CITY, Indiana – Perry County Memorial Hospital is proud to announce that our Pharmacy Team has been recognized by Comprehensive Pharmacy Services (CPS), the nation's largest pharmacy management organization. CPS announced during their annual meeting in June that their team with Perry County Memorial Hospital has earned their Best Practices Award for 2020.
This award is given to CPS-affiliated pharmacy teams in which demonstrate characteristics of leadership for both their company and community.
CMH's pharmacy team met specific criterion set forth by CPS Leadership that advances pharmacy practice while providing the utmost quality-patient care. The Perry County Memorial Hospital pharmacy department aligned with this criteria specifically because of their organization through skill and dedication to serving patients, staff, and caregivers through quality, innovation, and pharmacy practice.
Congratulations to PCMH's pharmacy department and thank you for your hard work and dedication to our community!
Perry County Memorial Hospital is committed to providing high quality healthcare and exemplary customer service in the most caring, compassionate, and effective manner. We are dedicated to improving the health and quality of life for the communities we serve while reducing the burden of illness, injury, and disability.