PCMH Receives Financial Performance Award Second Year
Category: News
Posted On: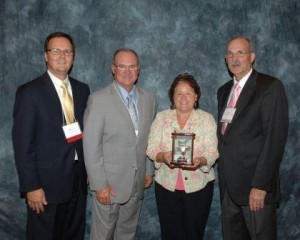 LOUISVILLE, KENTUCKY – Perry County Memorial Hospital has been recognized for its financial performance by Alliant Management Services (AMS). For the second year in a row, the hospital earned high marks in nine measures of financial soundness to win the award. Timothy L. Jarm, Alliant President and CEO, made the presentation at Alliant's annual awards ceremony Friday, July 27, at the Louisville Marriott Downtown.
Accepting the award on behalf of Perry County Memorial Hospital, located in Tell City, IN, were board members Chairperson John Land, Board Secretary Grant Taylor and Chief Financial Officer Kathy Clayton.
Perry County Memorial Hospital has been a member of the Alliant Management Services network for 27 years. The network includes hospitals and health systems throughout Kentucky, Indiana, Illinois and North Carolina. An experienced hospital management company since 1978, Alliant Management Services offers hospitals and health systems comprehensive operational, financial and clinical resources, plus the expertise of an extensive network of experienced professionals. Alliant Management Services is headquartered in Louisville, Kentucky.