Intern Spotlight: Kaydi Backer
Category: News
Posted On: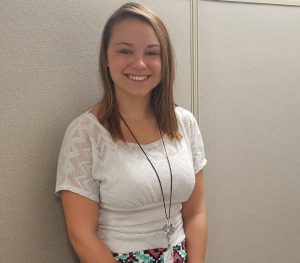 Here at Perry County Memorial Hospital we encourage all to find their happy, whether it's through treatment or a career opportunity. Over the next few months two lucky interns will be shadowing our marketing department, learning the ins and outs of not only business marketing but also the Perry County Memorial Hospital and it has to offer our community. We're excited to welcome our lovely interns to the PCMH Family and help them realize their true passion in life.
Get to know Kaydi Backer, Senior at Tell City Jr/Sr High School and PCMH Marketing Intern Fall 2016
Where are you from?
Tell City, IN
Why did you decide to pursue a career in Marketing?
It involves multiple aspects, working with the public and working independently
What do you like to do for fun in your spare time?
Hang out with my friends in Owensboro, go to games and watch Netflix
Are you a morning person or night owl?
Neither, I go to bed early and I am my best during the day hours
Describe yourself in 3 words.
Organized. Compassionate. Determined.
If you could only eat one meal for the rest of your life, what would it be?
My mom's spaghetti
What is your most memorable travel experience?
Gulf Shores with my friend Taylor on spring break, sophomore year
If you were stranded on a tropical island, what 2 things would you want with you?
Cell phone and my pillow
What is your nickname(s)?
KD (Like Kevin Durant initials)
What advice did you get that was the most rewarding?
Pick yourself up by your bootstraps (a quote from my mom)
If you could do one thing to change the world, what would it be?
Find a cure for cancer.
Where would you go if you were invisible and why?
Wherever Evan Peters is because he is my favorite actor.
What is one of the things you have on your bucket list?
Go to a beach destination outside of the United States
If you could be any animal, what would you be and why?
A dog because they are my favorite animal and they are loyal.
Who do you admire most?
My mom and dad.
If your life were a movie, what genre would it be and who would play you?
Romantic comedy; Margot Robbie would play me
Favorite school memory:
Bus rides with the tennis team!
Favorite sports team(s):
IU Basketball; Cardinals Baseball
Favorite TV show(s):
American Horror Story, The Bachelor/Bachelorette, Catfish
What are you looking forward to the most in learning during you time at PCMH?
Working with Laura Schilling to discover more about the marketing field and deciding whether it is what I want to major in.