Get To Know Breast Cancer Survivor, Earla!
Category: News
Posted On: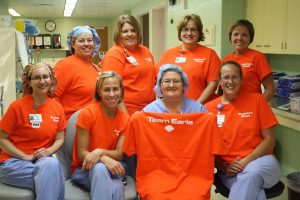 This year as we come together for Breast Cancer Awareness Month, the PCMH family gets to celebrate two of our own survivors. Today we recognize, Earla Williams, a CNOR certified RN, that acts as our OR Nurse Manager. She is a very important part of the PCMH family, being as a friend and inspiration to all. We are so lucky to have Earla a part of our team and community, learning from her positivity and passion for life and helping others. We asked Earla to share her story and journey with us, here's what she had to say:
When and how did you first find out you had breast cancer?
My yearly mammogram showed a suspicious area, so I had to have two biopsies and an MRI. I was diagnosed in July of 2013.
How long have you been in remission?
Three years
What stage were you diagnosed in?
Stage O
How did you feel when you first received the news?
I was tearful and scared. I then put my faith in my surgeon and God to get through my surgery.
Did you face any obstacles during your treatment process? If so, how did you overcome these obstacles?
I did get an infection and had to have more surgery. I also had to have reconstructive surgery twice. I just put my faith in God and the surgeons to get through it.
What advice would you like to give to women about breast cancer?
Get your yearly mammograms as well as monthly self- exams and physician exams. Early detection is the key to surviving breast cancer. Had I waited a couple of years, I may have had more invasive cancer. The way it was, I did not have invasive cancer.
What are you doing towards raising awareness about breast cancer?
I encourage my friends and co-workers to get their yearly mammograms and to do self- breast exams. I participate in relay for life and Susan G. Komen whenever my schedule permits. I also wear a breast cancer awareness necklace all the time. This gets people's attention and is a good reminder to people about breast cancer. I have given this necklace to several of my friends who have also been diagnosed with breast cancer.
How has breast cancer affected your outlook on life?
I feel I got breast cancer for a reason and one of those was to help others. Because of my experience, I can better help patients and friends who are diagnosed with the disease. As far as my outlook on life, I think it is better! I thank God every day for my health and for the wisdom of my doctor who diagnosed me. I am thankful I am alive to spend time with my grandkids, the youngest being 3 months old.
Who made up your support group?
My husband, son Logan and daughter in law Katie, as well as my family, friends, co -workers and surgeon.
Were you able to participate in the Evansville Race for the Cure this year? If so, what part do you lookforward to the most at the event?
My call schedule does not always allow me to participate, but this year I got to. I love when they line up all the survivors by years of survival, and then we walk in to some really upbeat music. It is a very emotional time for many.
Fun Facts About Earla
What is your favorite color (pink right?!)?
I do love pink, but orange is a close second!
What is your favorite movie?
Don't have a favorite. It's a big joke at my house that I can't stay awake long enough to watch a movie!
If you were standing on an island, what is one thing you would have to have with you?
My husband Jimmy!
What is one thing on your bucket list?
Go to Alaska.
Favorite meal of all time?
Iron gate pizza (I'm easy)
What is your favorite sports team?
Perry Central Commodores
Who do you admire most?
Mother Teresa
If you could do anything in the world, what would you do?
Bring peace on this earth to where there would be no more wars, fighting and killing.
Favorite travel destination?
Alaska
Why do you love working at PCMH?
I have worked at PCMH for nearly all of my career. I have been a nurse for 40 years and 38 have been here. I love PCMH because I love taking care of my friends and family. There is nothing better than making a difference for someone you care about. The staff at PCMH are like being in a huge family. I am thankful that I have been allowed to grow my career here.