Get To Know Our CEO!
Category: News
Posted On: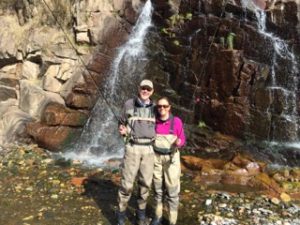 On June 1, 2016 the Perry County Memorial Hospital family welcomed a new face, Brian Herwig, as our new President & CEO. Over the last month, time with Brian has been spent not only discussing administrative needs, how the hospital functions and different ways in helping maintain positive community involvement, but also getting to know Brian and how he fits within our family and community.
Now is your chance to learn a little more about Brian! We asked Brian a series of questions ranging from his background and family, to current hobbies. We're very excited to have Brian as the new President & CEO of Perry County Memorial Hospital and we hope you are too!
Where are you from?
I was born in Lodi, Wisconsin and am the sixth of eight children. Lodi is a small rural farming community just north of Madison.
Why did you decide to pursue a career in Healthcare?
I was directed to Pharmacy by my oldest brother who was a Pharmacist at the time. After working several years as a Pharmacist, I was energized by management and completed my Masters Degree in Hospital Administration. I enjoy the challenge of building healthcare systems, programs, and services that deliver quality patient care. I enjoy coaching and mentoring teams and employees.
Do you have kids, grandkids, etc.?
My wife Karen and I have a wonderful daughter, Stacey. Stacey is our only child and is a Nurse in Indianapolis. She and her husband, Glen, have the world's best boys John, age 6, and Luke, age 3 who provide hours of joy, entertainment and fun. Their sense of wonder, creativity, energy and innocence serve as a great teacher for me.
What is your favorite thing to do with your family?
Karen and I enjoy traveling, reading, cooking, fly fishing, and hiking together. Moving to Tell City affords us an opportunity to learn a new regional culture, cities, places and events.
What does a typical Herwig BBQ or family gathering look like?
Time with my daughter and her family is an adventure. Ordinary events become big extravaganzas – picnics in the living room, rodeos in the backyard, the big top circus in the basement with lions, tigers, dancing elephants, and tight rope acts are part of our world of giving love, development and security to our "Buddies".
Are you a morning person or a night owl?
I am a morning person. Coffee, sunrise and peaceful quiet before the world wakes is a good time for reflection.
If you could only eat one meal for the rest of your life, what would it be?
Anything my wife cooked.
What is your most memorable travel experience?
Every travel experience is memorable for different reasons. Costa Rica with its eco-systems, birds and animals was our most recent. Alaska allowed me to enjoy my hobby of learning and collecting Native American art and culture.
If you were stranded on a tropical island, what 2 things would you want with you?
If stranded the 2 things I would want would be my wife and a fully stocked boat with fly rods, food, and lots of gas. (Maybe I cheated)
What is your favorite Halloween costume?
My Grandson Luke's dinosaur costume.
What is your nickname?
Former nicknames: Bruno, Big Water and Trail Boss.
If you could do one thing to change the world what would it be?
I would make sure all children had a safe environment to learn, grow, develop and have fun.
What is one of the things you have on your bucket list?
My bucket list includes an African photo safari with my wife and Buddies – John and Luke.
Who do you admire most?
Thomas Jefferson
If your life were a movie, what genre would it be and who would play you?
Kevin Costner played me in "Dances With Wolves".