Schweizer Fest Road Run 2016
Category: News
Posted On: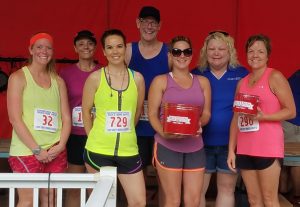 The Schweizer Fest Road Run took place on Saturday, August 13th in Tell City. This year's race series featured three different races. The first was a flat 2-mile course through historic Downtown Tell City. Followed by a challenging 6-mile course with beautiful views. As well as a free .25 miles FUN RUN for kids under the age of 7. As a sponsor of Schweizer Fest, our CEO Brian Herwig and PCMH staff volunteers had the honor of presenting awards to race winners.
Even though the weather brought too much humidity, no one slowed down to participate and show their support for our community! We want to thank all of the volunteers that took time out of their day to sweat through the humidity and cheer all participants on. Also, a big thanks to the Tell City police department for directing traffic, volunteers that handed out water, and those at the finish line that worked flawlessly to keep things organized.
The Final Count
This years race was a HUGE success with over 750 participants and over 40 volunteers! Proceeds of this event will be donated to our local cross country & track teams.
You can refer to the Run Perry County website to view the final results and stay informed on future races! The 1st place finisher received a large container of Tell City Pretzels. The 2nd and 3rd place finishers were awarded a smaller container of Tell City Pretzels. Overall winners were presented with a trophy and Tell City Pretzels. Congratulations again to all winners! We look forward to seeing you again at the 2017 Road Run.
Be sure to visit our Facebook page to check out more photos of the winners claiming their well deserved, and yummy, prizes!