Reduced Fee for Mammograms in October
Category: News
Posted On: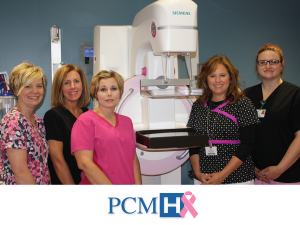 National Breast Cancer Awareness Month is an important chance to raise awareness about the urgency of early detection for breast cancer, so our Mammography ACR accredited Radiology staff members are offering a reduced fee for mammograms, as well as free goodies to anyone that participates.
We're seizing this opportunity to make a difference, and we ask you to join us in doing the same. Spread the word to your family and friends to schedule an appointment! (812) 547-0185
You may also qualify for a FREE mammogram if you:
Are between the ages of 40 and 64
Have not had a mammogram for at least one year
Are uninsured or under-insured, without wellness benefits.
Meet our financial guidelines
Are unable to pay privately for a mammogram
To find out if you qualify for this offer, made possible through the Susan G. Comen Foundation of Evansville Tri-State, The Indiana Breast Cancer Awareness Trust, and Perry County Memorial Hospital, please call Caryn Weiss at (812) 547-0125.