Get To Know Breast Cancer Survivor, Tina!
Category: News
Posted On: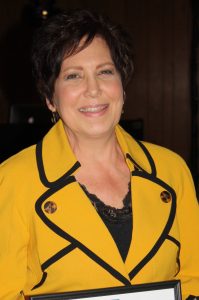 Every October for Breast Cancer Awareness Month, we recognize and celebrate survivors, support fighters and remember those who lost their battle against breast cancer.
Today we recognize another inspirational survivor in the PCMH family, who not only won her battle once, but twice! Tina Smith, one of our Registered Nurses and the Director of Education and Wellness, not only manages all aspects of PCMH's Education and Wellness Department, but she also takes care of coordinating and facilitating hospital education activities, programs and initiatives from new staff orientation and student internship and clinical experience, to health screening, programs and education in our community… and so much more!
We are so lucky to have Tina a part of our team, serving as a reminder that no matter what, don't ever give up! We asked Tina to share her story and journey with us, here's what she had to say:
When and how did you first find out you had breast cancer?
I have had breast cancer twice. The first time I could feel the lumps, however; it was not visible on mammograms. I had frequent mammograms every couple of months without detection due to having dense tissue. At that time, biopsies were not the standard of care. Even though it was felt that the lumps were non-cancerous, I decided to have them removed.
In the recovery room, I requested to see the lumps prior to sending for biopsy, and from the appearance, I was pretty certain it was cancer. The report that I received several days later confirmed what I already knew.
Approximately 6 years later, I got a phone call from someone I knew who was just diagnosed with breast cancer, and she wanted to talk with me about her diagnosis. Immediately after returning from speaking with her, I noticed a lump under my arm just by chance.
Having previously had cancer in my lymph nodes on the other side, I immediately realized that if I found a lump under my arm, there had to be a lump in my breast. Initially, I could not find the lump, however; with persistence, I found it against my chest wall. I immediately saw my oncologist who sent me to my surgeon for a biopsy which confirmed that I had cancer in the other breast.
How long have you been in remission?
I have been in remission for 7-8 years.
How did you feel when you first received the news?
The first time I was diagnosed, I was a single mother with 4 children. My mind immediately went to my children, and I knew that I needed to find a way to survive, so that I could raise them. I was given a 40% chance of living for 2 years, however; armed with faith, I was determined to find a way to beat the odds!
The second time, with quiet faith, and knowing my options, I simply proceeded ahead knowing what I needed to do and what laid ahead of me.
What advice would you like to give to women about breast cancer?
If you find a lump, have it biopsied immediately. If cancerous, talk with both a Medical Oncologist and Surgeon to determine your options and course of treatment.
How has breast cancer affected your outlook on life?
When you look at mortality straight in the face, you certainly see life in a totally different light! God, my faith, family, friends and coworkers are very important to me. I have learned to laugh at myself and find humor in unexpected places and to just enjoy the simple things in life!
Who made up your support group?
I sincerely believe that I had…and continue to have…a wonderful support system. I truly believe that I have been blessed to have so many wonderful people in my life. The kindness, support and generosity from friends and co-workers was simply amazing.
My family, parents, brothers, sister-in-law, and husband Tim (we were married after completing a year of chemo and radiation) were instrumental in helping me determine the best options, obtain treatment, continue working and raising my children.
Are you participating in Race for the Cure this year?
Yes, I am participating in the Race for the Cure.
Fun Facts About Tina
What are some of your favorite things?
Anyone who knows me, knows that I don't like to choose favorites. I have always felt that if I choose a favorite, I would be leaving someone or something out…which I wouldn't want to do (smiley face)
Why do you love working at PCMH?
This I can easily answer!!!! I love working at PCMH, because I am blessed to work with a fantastic group of caring, compassionate, and skilled staff who work together as a team to treat the patient and family holistically. I know this because I not only see my coworkers going above and beyond to provide exceptional care on a daily basis, but I have also experienced it first hand as a patient.